December 14, 2018
CfP: Conference on Increasing Environmental Pollution by IIMT School of Law, Delhi [Jan 19]: Submit by Dec 30
About 
The Rakesh Aggarwal Memorial National Conference 2019 on Increasing Environmental Pollution: Challenges and Solutions will be held on January 19, 2019 (Saturday) by Ideal Institute of Management and Technology & School of Law.
The Conference aims to deal with the issues related to the different kinds of pollution such as Land Pollution and its incidents, Air Pollution and its incidents, Water Pollution and its incidents along with various other environmental policies and laws and their related issues and challenges in great detail.
The Conference will have plenary sessions from renowned researchers. The Papers will be track chaired and co-chaired by renowned researchers, legal experts and jurists. It will be divided into Technical Session 1 and Technical Session 2.
Eligibility
List of people who can apply along with specific fees:
Foreign Nationals: Rs. 1500/-
Academicians: Rs. 1000/-
Professionals/Advocates: Rs. 1000/-
Research Scholars: Rs. 750/-
Participant (Non-Author): Rs. 500/-
Students: Rs. 500/-
(Co-authors need to be registered separately)
Sub-themes
1. Role of Indian Culture and Traditions in protecting our environment.
2. Improving India's Environment and Air Quality.
3. Preserving and protecting our Water Resources.
4. The economic impact of Environmental Pollution.
5. Reducing Green House Gas Emissions and Our Carbon Footprint.
6. Norms and Regulations of vehicular pollution.
7. Solid Waste and E-Waste Management.
8. Environment-related Health issues.
9. Impact and Implementation of International Environmental Treaties in India.
10. Any other relevant issue.
Location
IIMT & School of Law (GGSIPU, Delhi), 16X, Karkardooma Institutional Area, Delhi-110092.
Registration Procedure
Those who intend to participate should E-mail the abstract (200-300 words) and full paper (original and unpublished research work) at lawconference.iimt@gmail.com. All abstracts and full papers should be strictly in the Format as follows:
1. Page Size: A4
2. Font Style: Times New Roman
3. Font Size: 12 pts.
4. Margins: 1.25 Inch on all sides
5. Line Spacing- 1.5
6. Text Alignment: Justified
All participants are requested to get themselves registered through the given registration form by downloading it from the link given below. The filled form should be sent to lawconference.iimt@gmail.com.
The Registration Fee should be paid by CASH, NEFT/online transfer of Demand Draft in favour of Ideal Institute of Management and Technology & School of Law payable at Delhi.
Bank Details for NEFT/Online Transfer:
Beneficiary name: Ideal Institute of Management and Technology (School of Law)
Bank Name: Central Bank of India
Address: S.D. Sr. Sec. School, Shahdara, Delhi- 110032.
Account No.: 3183291816
Account Type: Savings Account
IFSC Code: CBINO283323
Note: Receipt of online registration fees should be attached with the registration form.
Deadlines
Abstract submission deadline: Dec 30, 2018
Full paper submission deadline: Jan 8, 2019
Paper acceptance communication date: Jan 10, 2019
Last date for fee payment: Jan 10, 2019
Contact
Faculty
Dr. Roopa Sharma: +919810160851
Student Co-ordinators
Mr. Pranshu Tripathi: +918840003925
Ms. Vandana Attri: +918700810626
Mr. Vipul Thakral: +918950222526
Ms. Sakshi Sharma: +917404306482
Email: lawconference.iimt@gmail.com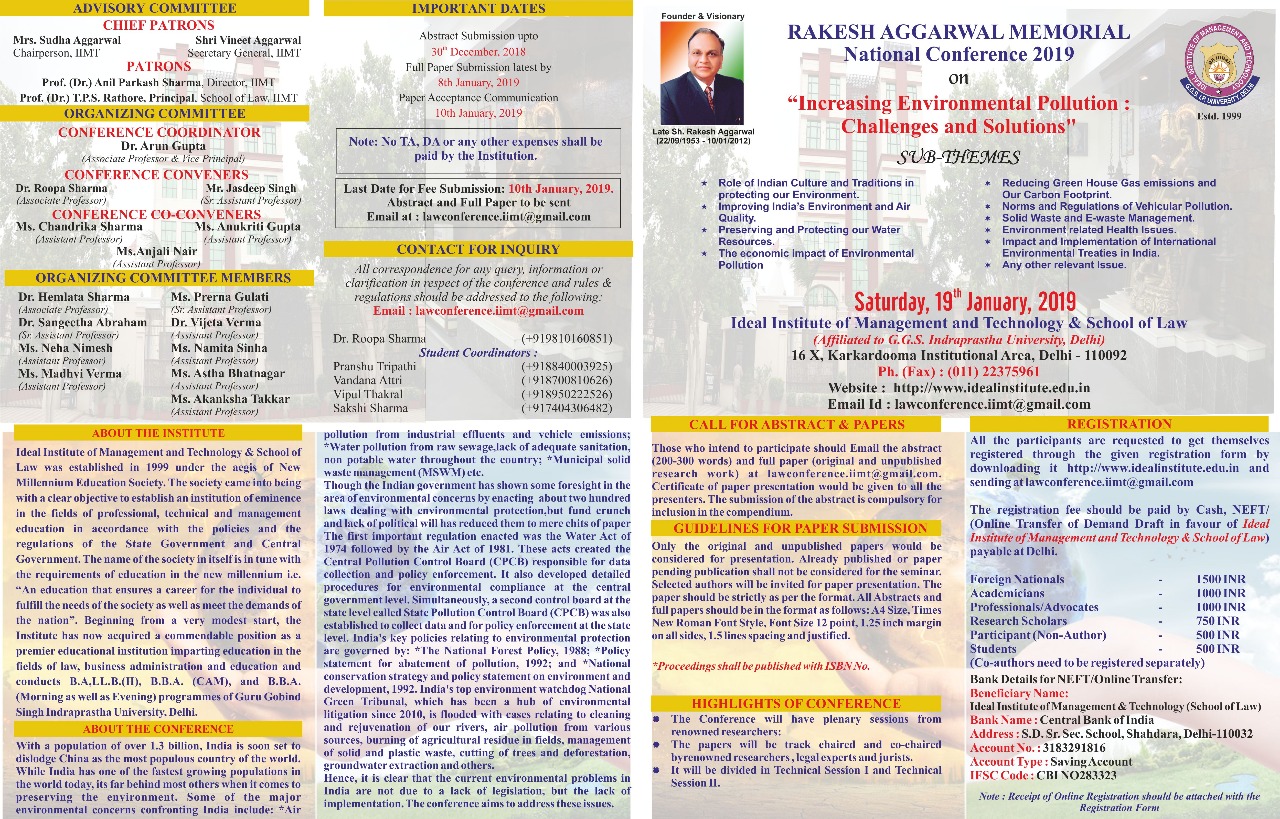 Disclaimer: We try to ensure that the information we post on Lawctopus is accurate. However, despite our best efforts, some of the content may contain errors. You can trust us, but please conduct your own checks too.